Economics | Simple | Product Category: CourseWork
Best BSchool material (solved) on tough subjects like Operations Research, Economics, Statistics, Case Studies, Placement Interviews, Aptitude/Psychometric Tests etc.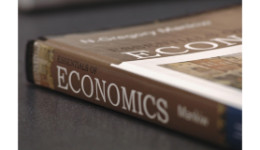 A super simplified e-notebook on economics for management students. It will certainly help you build a better grasp on the subject and prepare you for exams.
Package Features:
Economics is supposedly hard to grasp initially, but later it becomes quite intersting if one is able to crack the basics of this subject.Therefore, we have introduced a simplified e-notebook to help students grasp the concept better.
This special material is in the form of a Guide and contains concepts explained in the simplest form, designed specifically for students pursuing management studies.

A thorough preparation of this material will definitely help you score well in this subject. The best ready reckoner you'll ever come across.
File types included in the zipped package : PDF

File size of the package : 9 Mb

No. of Pages : 116

Read/Write Authorityaaaaaa Authentic DataaaaaaaInstant DownloadaaaaaaFree To Share
---
Consumer Reviews
By Danny AscalonEconomics is always the toughest subject to crack for management students, this material will go a long way in providing excellent base for eco By Sunil Lankaafter toiling all day at my work and then attending evening classes it becomes very diffucult to actually learn.. This workbook concepts is brilliant it forces us to learn By Ramesheconomic study materials are generally as tough as the subject itself but this material just takes the cake and presents the toughest subject in the most lucid manner to the students By Shoaib Rafiqthis is the master material for MBA students?economics has been a pain all along, and it is so bloody important also because the rest of our lives we spent analysis economics of the country and the world..thanks for helping me clear my concepts By Al-Hasan Rizvibrilliant workbook By Ramanathan M By Murli Iyer By Haripriya SI have bough all 3 products on economics from your portal By Karan Rathorethe questions in the material are so neatly designed that economics then doesn?t sound that bad By Kim Evey material is oversimplified By Pham Duy I wish you would have launched this portal a year back

By Bimol Dasan